Buy Lightspace HTL Home Theatre Light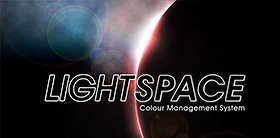 LightSpace HTL provides home cinema calibrators with exactly the same tools, capabilities and accuracy as the professional LightSpace versions, guaranteeing images seen on a home cinema system will match perfectly the look intended by the film's DoP and Director.
The difference between Lightspace Home Theatre Light and Lightspace Home Theatre Pro is probe compatibility.
With any version of Lightspace, once you have profiled a display, you can create as many LUT's as you like (from the same profile) targeting any color space including Custom Color Spaces. You do not need to run another profile to create a different calibration target.
Example: you can create a LUT targeting Rec 709 Gamma 2.2, Rec 709 Gamma 2.3, Rec 709 Gamma 2.4 and BT 1886 from the same display profile.
Features
LUT Image, LUT Ripping
LUT Conversion
LUT Import - Selected Formats
LUT Export - eeColor, Light Illusion, VCGT
LUT Preview - On Any User Image
Colour Spaces - All Standards, plus User Defined
Gamma - All Standards, plus Parametric
Save Profile Data - plus Import & Export
Calibration Interface - Selected Probes
Quick Profiling - All Formats
Cube Profiling - All Formats
LUT Manipulation - VideoScale Only
LUT Burn-in & Batch Processing - NO
CDL, ARRI, ACES - NO
Probe Support
i1 Display 1
i1 Display 2
i1 Display LT
Spyder4
i1 Display Pro OEM
i1 Pro & i1 Pro 2
System Integration
Lumagen - All patch generation & 3D LUT capable systems
Accupel - For patch generation
madVR - For patch generation and LUT upload
eeColor - LUT compatible
Color Space Targets
DCI P3
Rec 601 NTSC
Rec 601 EBU
Rec 601 RP145
Rec 709
sRGB
DCI XYZ
ACES
ITU-R BT.1886
UHDTV
Vision
Premier
Fuji
Ordering Details
License Key
Light Illusion will contact you within 24-48 hours to provide you download instructions and your personal license code.
Pricing & Discounts
Please note that all prices exclude EU-VAT, which will be added on checkout for European based customers.
Price below includes a discount from the retail software prices.
LightSpace Customer Support
LightSpace comes with an inclusive one year multi-level support contract, including remote training, dedicated discussion forums, direct e-mail and phone communication from Light Illusion. Support beyond one year requires the purchase of an additional year's support contract at a cost of 10% of the original product purchase price.
First level support is via the Light Illusion Discussion Forums. Second level support is via direct e-mail communication.
Standard support response time is within 24 hours of the support request, with the majority of support requests being answered within minutes.
LightSpace Product Upgrades
LightSpace software licences include free software revision updates for all options purchased, for the life of the product.

If you have any question regarding Lightspace Home Theatre Light please feel free to contact us.